E-Greetings Division - Overview
"The simple gift of giving becomes an elaborate rich aftertaste of a natural blissful feeling."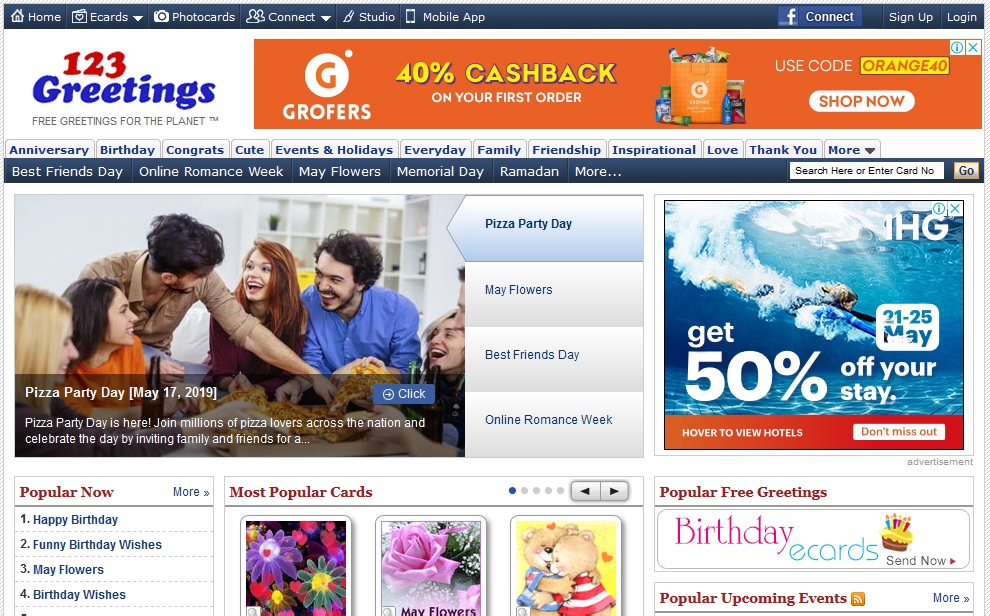 Our E-Greetings website is the world's leading online destination for human expressions reaching 95 million visitors annually. Its offering of over 42,000 e-cards across multiple languages covers a mix of 3,000 seasonal & everyday categories. Its presence is ubiquitous with its mobile applications, mobile website and Facebook application catering to users on mobile and social media. Its 'Connect' feature is a relationship management tool enabling users to actively manage their expressions for both personal and professional contacts. It also operates a Greetings "Studio", a unique platform for artists, to upload and monetize on their own e-cards.
Testimonials
I want to take this time to thank you for the site that you have created. Using your material has been a pivotal point in my marriage, through the rough patches, and the kind & loving moments as well. It will forever remain one of my most valuable tools that I have utilized in expressing my love to the person who is most important to me."
– Richard Reuben
Thank you for letting us have these wonderful ecards for any event. You are making our lives so much easy. I always use your cards and everybody tells me that they are great. Keep on the excellent job you are doing."
– Elizabeth, Costa Rica
Just wanted to sincerely thank your company for providing such a valuable service. Your website is one of the best that I have ever come across. Your card selection is huge, your confirmation process top notch, your reminders much appreciated, and I mention your website to many people in the course of a year. Please accept my sincere appreciation for all your efforts - you get an A+ in my book"
– Kenneth Watts
I have used Greetings website a few times and have always been TOTALLY IMPRESSED!
Your selection is OUTSTANDING and the deliveries are QUICK!
Another HUGE PLUS is that there is no registration, passwords, or fees!
Your company has set the bar VERY HIGH for other aspiring E-card sites!
Why mess with the rest, when you can use the best!
I wish everything on the web could be as easy as 123!"
– Burt Maltby